---
2. Once you have decided what you want… We will advise you of upcoming auctions likely to offer vehicles you want. We will send you a purchase to order agreement spelling out our mutual obligations. You send us a bid deposit ranging from ten to twenty percent of the anticipated bid, depending upon vehicle. The day before the sale our appraiser will call you to reconfirm your order. Once we are at the sale, our appraiser will inspect the cars, discuss choices and probable prices with you. We will bid according to our discussion. Following a successful bid we recheck services and title histories to avoid problems. Once we have bought you a car it will be trucked to our facility for inspection and service. You can decide what service to have done based upon our inspection report. The car will be made ready for delivery to you.
__________
3. Once we buy the car it takes 2-5 days for the car carrier to deliver it to our shop. Two or more days are then required for inspection and service. If warranty or paint repairs are required there may be further scheduling delays. Cars are usually, but not always, ready for delivery within two weeks of purchase. Many vehicles are ready sooner.
__________
4. The great thing about this is that the sales never end. There are always more cars and more sales. Most people choose to have us continue the hunt at the next auction. However, if you wish we will cancel the purchase to order agreement and refund 100% of your deposit.
__________
5. If we accept an order we will do our best to fill it. Certain cars are very difficult to find, and several months may be required to locate a vehicle. Examples of difficult-to-find cars are late model Rolls Royce or Ferrari products. When accepting an order, we impose limits on age, mileage, and condition. We will not accept orders for cars we believe will be substandard. We would rather buy nothing than buy a car that will give you nothing but trouble. These limits vary with market conditions and the vehicle selected. For example, we can buy fifteen-year-old Ferrari cars in near-new condition. However, buying a near-new four-year-old VW Jetta is a real challenge.
__________
6. You must deliver a bid deposit of 10% to 20% prior to our bidding for you. The balance of the vehicle's price must be paid within two weeks or delivery of the vehicle, whichever comes first. Service costs, sales tax and registration fees must be paid prior to registration or delivery of the vehicle. We offer loan and lease financing to qualified customers. There may be different deposit requirements for customers obtaining financing through us. Advance approval is required. Financing is limited to residents of Connecticut, Massachusetts, Maine, New Hampshire, New York, Rhode Island, and Vermont. Contact our office for details.
__________
7. We usually register vehicles by mail in your state of residence. If you wish, you can register the car yourself. Most buyers choose to have us do it. Depending upon your state's regulations you may be required to have the vehicle inspected before permanent plates are issued. Residents of states with inspection requirements may have to complete the registration process upon receiving the vehicle. Contact your state's motor vehicle department or our office for more information.
__________
8. You are responsible for all tax and registration costs. When we sell a car in Massachusetts we collect 6.25% sales tax for our state. This tax is not paid to us. Rather, it is paid directly to the Massachusetts Department of Revenue. They issue a receipt that will be accepted by your state as proof of 5% sales tax payment. If your state has a higher tax rate you will pay the difference there. You will not be taxed twice. If you choose to have us register your car you will be responsible for state registration and title fees. In some cases there will be mailing and documentation charges to process these papers. Such charges rarely exceed $100.
__________
9. JE Robison Service is committed to delivering top quality cars and standing behind them 100%. We do our best to ensure every car is serviced and fully functional before it leaves our premises. Most vehicles are sold subject to the Massachusetts "Used car lemon law" warranty, which you will receive at no charge. This warranty covers defects affecting safety or usability for a period of 30 to 90 days or 1,250 to 3,750 miles. In addition, you receive the balance of manufacturer new car warranty at no charge.
__________
10. Auction policies vary from location to location, but all auctions we attend offer a buyer these important protections:
The auction guarantees a clear title to the car. They do not pay the seller until a clear title has been delivered to them.
The auction guarantees the odometer accuracy. Unless the car is represented as "true mileage unknown" the auction stands behind the odometer. If, at any time, it is proven that the mileage on the vehicle at the time we purchased it was misrepresented, the auction will buy the car back.
The auction will also buy the car back if undisclosed title brands are discovered. These include recovered theft, salvage, reconstructed, taxi, police car, lemon, flood, and other defect brands.
For cars represented as good — or "green light", the auction has an arbitration system which allows us to adjust the purchase price of the car or reject it entirely if it is found to have undisclosed frame damage, or undisclosed major mechanical problems upon inspection within 3 hours of purchase.
11.
You will have to pay a basic charge ($360 for most cars) for cleanup, inspection, and basic service. This charge covers these services:
Change oil and filter, set all fluids, make sure antifreeze is good to -30°.
Make sure all exterior lights, wipers, and horn are working properly.
Clean, polish and wax the exterior.
Clean and detail the interior, engine compartment and trunk.
Generate a list and cost estimate for any other work needed. Most cars we buy are covered by manufacturer new car warranty. On such cars you will generally not have to pay to repair defective components. You will have to pay for any non-warranty repairs necessary to make the vehicle safe and usable in accordance with state law. Examples of items you might have to pay for are new tires, replacement brake pads, or repairs to safety systems like light bulbs or wipers. You may also choose to pay for optional services, such as scheduled maintenance or installation of accessories. Some items, like worn tires or a chipped windshield, are visible when we look at the car in the auction yard. We will consider these items when arriving at a bid price and may discuss them in advance with you. Other items, like worn brake pads, cannot be seen until the vehicle has reached our service department. Before accepting your vehicle order, we will give you an estimate for service costs for the particular vehicle you are requesting based upon our extensive experience buying similar cars.
__________
12. The car is checked in our service department for problems in these key areas:
We check to see if all scheduled service is up to date, and if not, what needs to be done. This includes fluids, tune-ups, timing belts, fan belts, hoses, and all other items serviced as part of the manufacturer's recommended maintenance schedule. Engine oil and filter are changed as part of this service. In addition, any low fluids are topped off and antifreeze is set to -30° as part of this service.
The car is put through an enhanced emission test in accordance with the 1999 Federal standards to ensure all emission control and engine management systems are working as designed.
Brakes, steering, suspension, and all under car components are checked for wear and proper operation.
The undercarriage is checked for excessive leaks and other damage.
Wheels and tires are checked, and alignment or wheel balance is checked if indicated.
All safety equipment is checked for proper operation (lights, wipers, horn, etc.)
All accessories are checked for proper operation (radio, cruise control, power windows, etc.)
All body panels and the vehicle's unibody structure or frame are checked for concealed damage.
Any cosmetic damage both inside and outside is noted.
The vehicle is checked for accessory items — extra keys, remotes (if supplied), manuals, spare tire, jack, tools, etc. Missing items are noted.
The vehicle is road tested for to identify any other problems. In addition we check the vehicles title history, the manufacturer service history if available, and we check for and complete any outstanding recalls. Our service advisors will discuss the results of this comprehensive check with you. Some items may be covered by manufacturer new car warranty. Those items will be repaired at no cost to you. Other items may be repaired at your expense. By law, we are required to repair all items that affect the safety or usability of the vehicle prior to delivery to you. This service, if needed, is at your expense. Most customers also choose to have us repair additional non-critical items or perform any scheduled preventative maintenance as well. We have a large service department and are fully equipped to perform any needed work.
__________
13.
We have relationships with several excellent auto transporters. Not all the truckers we use have websites. Two that do are here:
Intercity Lines
and
Frank L Castine Movers
. Both firms above are headquartered near JE Robison Service, and have provided excellent service to our customers. They use enclosed trailers, so your new vehicle is protected from the elements on its way to you. Of course, you may also arrange your own transportation.
Movecars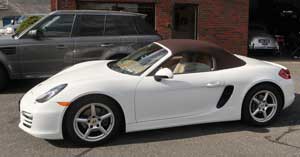 __________
14.
We offer three options for trade-ins. First, we will establish a tentative wholesale value for your vehicle based upon your description of it. We will find buyers willing to purchase your trade and present you with their offers. If you accept the offers we will dispose of your old car as soon as it is delivered to us. Of course, its value is contingent upon your describing it accurately. Second, we will send your trade to auction after delivering your new car to you. You will be charged our costs for cleanup, shipping, auction entry, and auction sale and given the net proceeds. We do not charge a commission to dispose of customer trades in this manner. Third, if you have a special interest car, we can sell it on consignment at our facility. If the car does not sell we can send it to auction as described above.
Contact us
for more information on consignment
__________
15.
We hold a Massachusetts Class II dealer license.