Rolls-Royce Silver Shadow, Silver Wraith, Corniche and Camargue models Bentley T Type, T2, and Corniche
Beginning with the 1964 Introduction of the Silver Shadow, Rolls-Royce derived all its models from a single chassis design. All subsequent Rolls-Royce products up to the Silver Seraph derived from this 1960s chassis design.
The design was a unibody, meaning there was no separate frame as had been found on all earlier Rolls-Royce cars. The first model to appear was the Silver Shadow sedan. A long wheelbase model followed a few years later, as did coupe and convertible versions. The two-door version became the Corniche. Rolls-Royce also put Pinninfarina designed bodywork on this chassis to create the Camargue.
The sedans were sold under the Bentley nameplate as the T type. In the 1970s the Bentley was nothing more than a rebadged Rolls-Royce. No mechanical differences set the two brands apart.
Production figures for these first cars, from 1965-1976

| | |
| --- | --- |
| Silver Shadow sedan | 16,717 |
| Silver Shadow two-door | 606 |
| Silver Shadow convertible | 505 (through 1971) |
| Silver Shadow long wheelbase | 2,776 |
| Bentley T1 variants | 1,852 |
In 1971 the two-door models were given a separate identity as the Corniche series. These cars had free-flow exhaust, more highly tuned engines, and fancier wheel and interior trimming.
For 1972 all models were upgraded with vented front disc brakes.
Production figures for Corniche cars, from 1971-1976

| | |
| --- | --- |
| Rolls-Royce coupe | 1,108 |
| Rolls-Royce convertible | 3,239 |
| Bentley Corniche | 140 |
For 1974 the US market cars acquired protruding front and rear bumpers to meet American crash standards. In addition, wider 235/70 VR 15 tires replaced the former 205 tires.
In 1975, Rolls-Royce released the Camargue. This was a two-door coupe with bodywork designed by Pininfarina of Italy. The Camargue marked Rolls-Royce's first use of rack and pinion steering and split level automatic climate control, both of which appeared on all Rolls-Royce models for the 1977 model year.
The Camargue was the most expensive car in the Rolls-Royce lineup, selling for $180,000 in 1980. 526 Camargue models were produced, including one car badged as a Bentley.
With the redesigned front suspension, rack and pinion steering and climate control the Silver Shadow was renamed the Shadow II. The long wheelbase car became the Silver Wraith. The Bentley sedan became the T2.
Production figures for 1977-1980 cars

| | |
| --- | --- |
| Silver Shadow | 8,425 |
| Silver Wraith | 2,145 |
| Bentley T2 | 568 |
In 1980 Rolls-Royce took a major step forward when they changed from brake fluid to mineral oil to power the braking and suspension systems. In addition, Rolls changed from carburetors to Bosch K-Jetronic fuel injection. The last model year of Silver Shadow II production differed quite a bit from earlier models as a result of those changes.
The biggest news was the 1980 introduced a completely new body on this chassis. In long wheelbase form this was called the Silver Spur. The short wheelbase car was called the Silver Spirit.
1981-1987 sedans — the Rolls-Royce Silver Spur, Silver Spirit, and Bentley Mulsanne
The first version of the Spur and Spirit series was built from 1981 to mid 1987. The Spur models were four inches longer, all of which was in the rear seat floor area. Silver Spurs often have rear footrests and picnic tables in the rear of the front seats. Those items are rarely found on Silver Spirits. In addition, Spurs often have finer woodwork and the leather often has contrasting color piping. Mechanically the two models are the same.
A Bentley version of this car was sold under the Mulsanne name. The Mulsanne was offered in short and long wheelbase models but almost all cars were short wheelbase. Only 49 long cars were built. The Mulsanne was the last "badge-engineered" Bentley. Newer Bentley models would return to that company's sporting heritage as the 1980s progressed.
See my article on Bentley in the 1980s.
All the original cars were fitted with rectangular sealed beam headlamps for the USA market. It was common for owners to retrofit the nicer looking European headlamp assemblies.
These cars all use Bosch CIS fuel injection — a more trouble free system than the carburetors used on older models. The CIS system can be serviced by any authorized Bosch service agent. You can find Bosch Service at www.boschcarservice.com.
These engines were prone to overheating because the first fans and radiators were inadequate. Rolls-Royce changed the cooling fans, clutches, electric fans, and radiators several times before getting in right in the late 1980s.
The 81-87 cars use the GM based air conditioning that was introduced on Shadows II cars. The GM 400 automatic transmission continues in these cars as well.
Spurs and Spirits are prone to leak oil, and their front ends were weak for the mass of the vehicle. It's not unusual for a 75,000 mile car to need a complete front end overhaul costing several thousand dollars.
In 1986, European and Middle Eastern models received Bosch antilock braking. ABS did not appear on US market cars until 1990.
1988-1989 cars — the 20000 series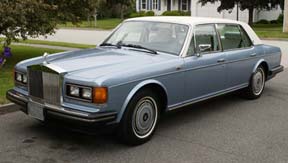 In the middle of the 1987 model year Rolls introduced a major design update to these cars. To distinguish the updated cars the serial numbers jumped from 15000 to 20000. These 1987½ and later cars are referred to as 20000 cars as a result. The model designation did not change — the cars remained Silver Spirit and Silver Spur.
Improvements included:
A redesign of the dash with more modern instruments improved the car's look quite a bit. The old rectangular trip computer box was replaced by better-looking round gauges.
These cars had an improved Bosch fuel injection system. From January of 1987 to July of 1989 Rolls-Royce used K-Jetronic fuel injection.
Alloy wheels were fitted to a Rolls-Royce for the first time as an option and later as standard.
A more robust cooling system was fitted and the cars were a lot more usable in hot weather.
There were a number of design improvements to the brake system.
A Japanese air conditioning system that is much better and more reliable replaced the old GM-based system.
Bosch antilock brakes began to appear in some markets, arriving in the USA a few years later.
To conform to American laws these cars also acquired motorized seat belts for the 1988 model year. They are unreliable and costly to fix. Motorized belts vanished in 1990 with the arrival of driver air bags.
Production figures for standard Rolls-Royce models through the 1980s

| | |
| --- | --- |
| Silver Spirit | 8,129 |
| Silver Spur | 6,238 |
| Silver Spur Limousine | 101 |
| Bentley Mulsanne | 533 |
1990 to 1993 cars — the Spur/Spirit II series
For the 1990 model year Rolls-Royce introduced the Spirit II and Spur II models. Serial numbers of these cars start with the 30000 range.
These were distinguished by the following changes:
Alloy wheels were fitted to all models as standard.
Electronically controlled suspension appeared. Handling is markedly improved with this system but repair cost is higher than the conventional shocks on older cars.
These cars used a more modern Bosch Motronic engine management system that gave more power and better operation.
The dashboard was once again redesigned in a more modern fashion, and the steering wheel acquired an airbag.
Many people think these cars are the best buy in late Rolls-Royces. They are modern, reliable, and can be repaired with a minimum of specialized test equipment. Newer cars, while performing better, cannot be serviced without the proprietary Mastercheck test system. In addition, newer cars contain more specialized electronics that may be a problem when spare parts are needed in the distant future.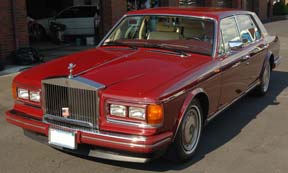 These cars used a Bosch ignition system containing two Mercedes-Benz 190 type distributors mounted side by side with a toothed belt connecting them. If this belt breaks the engine will lose half the cylinders, and continued operation will overheat the catalysts and cause a fire. Pay attention to this little belt if you have a Rolls or Bentley of this vintage.
1994-1995 cars — the Spur/Spirit III series
These cars are an evolutionary development from the previous series. These are the highlights in terms of change:
European style headlights were fitted to the US market cars for the first time. The bumpers were restyled and modernized as well.
Dual airbags with the glovebox relocated underneath, where the fuses previously resided. The fuses have been pushed forward ahead of the glovebox behind a removable panel.
The engine was significantly redesigned, with quite a bit more power. The underhood appearance changed as the engine used direct ignition, doing away with the distributor and wiring of older cars. Bosch Motronic engine management was used.
The more modern GM 4 speed electronic automatic transmission replaced the old 400 which was rather outdated.
The performance of the electronic suspension and the ABS brake system improved markedly on these cars.
The Spur III and later series are the most drivable and modern of these style cars. Their performance is far better than any older Rolls-Royce product. However, repair costs for the electronics may be higher. Overall reliability is much better than any previous product.
1993 models had pushbutton entry. If the fobs are lost you'll need to buy a new receiver for the trunk and 2 new fobs, a near $1,000 cost. A newer Alpine stereo system was fitted to 1993 models, and this system was continued until the 1998 production.
1996 and on — "new" Spirit/Spur
The 1996 cars had restyled body-color bumper covers, a smaller hood ornament, and different wheels. The outside rear view mirrors were painted body color and faired into the doors. Inside, the radio was covered by a swing up wood panel.
The 1996 cars were the first Rolls-Royce products to have tilt steering column. When the 96 cars came out, the tilt kit was also offered as a retrofit for 1993-1995 cars. Consequently, you will see some of those cars with tilt steering but it was not factory fitted until 1996.
1996 cars had the rectangular remote entry button that was carried over from the 1993-1994 models. 1997 cars got a newer alarm system with almost-triangular buttons. The 1997 alarm system was more problematic in my experience. Neither system is supported any longer, so if your remotes are lost you'll have to fit something from the aftermarket.
In 1996 Rolls-Royce decided to add turbo charging to all its cars. Most models received the "light turbo" - a turbo system that bumped the engines to 300 horsepower and improved drivability. The power output of the Bentley sport models increased also, to 400HP and more.
The 1996 and newer engines used a Zytec engine management system instead of Bosch Motronic. Zytec engines run well but service can be tougher and more costly than on older cars with the Bosch system. The Zytec system, in my opinion, is a weakness in these cars because of its potential service issues. Bentley is said to have dumped Zytec after the sale of the company, and Zytec service reps were unwilling to help me with anything on their controllers.
In 2005, Zytec refused to service a controller when I called them for help. They referred me to Bentley, whose only solution was a new unit at a cost of $4,000. At this time (summer 2006) I am not aware of any other service options for Zytec systems.
1996 and newer Rolls-Royce cars came with a sixteen-inch wheel which is markedly more costly to fit with tires than earlier cars. Bentley models used seventeen and eighteen inch wheels whose tires are markedly more expensive. Handling improves and ride suffers with these new wheels.
1997 cars had automatic headlamps but the car was otherwise unchanged from 1996. Development of these cars had come to an end as the company's limited resources were swung over to Silver Seraph development. The Seraph was introduced in 1998 with a all new design featuring a BMW powertrain.