Bentley and Rolls-Royce restoration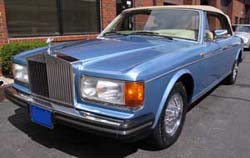 A era in British auto making came to an end when Vickers PLC sold Rolls-Royce Motors to Volkswagen Group in 1998. A legal battle ensued and in 2003, BMW emerged as the owner of the Rolls-Royce brand while VW carried on with Bentley.
Both BMW and VW designed and introduced new models to carry their respective brands forward. For the first time Britain's premier marques were engineered under German ownership.
The new cars outperform the older Crewe designs in many ways but they lack that "old world charm." The hand made feeling one got when sitting in a Turbo R or a Silver Wraith is unmatched by any modern mass production motorcar.
Perhaps you grew up with cars of the 60s, 70s, or 80s. Perhaps your first Rolls-Royce or Bentley was a used example from that era. Or maybe you bought a new one, back in the 90s, and wish you never sold it.
Or perhaps you still have one of these cars, languishing for want of proper care.
We can bring it back for you.
JE Robison Service is one of the only companies with experience restoring Crewe-built Rolls-Royce and Bentley cars made in the last 50 years. These cars use technologies and assembly techniques that set them apart from older cars, and they are also distinct from their newer counterparts. We have the knowledge to make them sparkle.
When cars like this were new our company's focus was on maintenance and repair. It's gradually shifted to overhaul and complete or partial restoration. We're doing over powertrains, bodies, leather, wood, and electronics. JE Robison Service is one of the few specialists in the United States to focus on modern cars.
Take a look at some of our custom projects and let your imagination run. If you can think it up, we can do it!