Many people think that a mechanic has to own a vehicle to appreciate how to fix it, and what may go wrong. Well, we're not hypocrites — I've had a long line of Rover products, some of which are described here:
Rover #1: Portofino Red 1988 3.5 model
I bought this Rover when it was about one year old at the Manheim Auction in Pennsylvania. It was the first Range Rover I ever drove. I was very impressed. I quickly realized that this thing could take me so deep into the woods that helicopter recovery would be required if I got stuck. It easily climbed goat paths and pushed over small trees just like my great grandfather's tractor.
I drove this Rover around quite a while with only minimal damage. After demonstrating how it could ford rivers and turn around in almost three feet of water my friend TR bought it. He kept it another 150,000 miles, selling it last year to one of his co-workers, who still has it.
The first week TR had it we drove down a trail in Vermont and tore the track rod off on a stump concealed under leaves. As soon as this happened it began to sleet and got dark. I was afraid we might freeze to death on the walk out but we emerged OK and recovered it a few days later. We were lucky to have had the mishap a week before hunting season. A few days later and it would surely have been shot full of holes.
Rover #2: Gold 1989 3.9 model
I acquired this Rover from one of our customers who became sick of it at 60,000 miles. The first owner was a Mercedes driver and the reliability of English cars was not what he expected. I got this Rover in mid winter, shortly after my Jeep Cherokee was stolen at the movies. The Rover was far superior to the Jeep and did not get stolen. I had a good time smashing through snow drifts all winter. I hit one drift particularly hard and discovered there was a large rock inside. After that my enthusiasm for smashing snow drifts diminished.
I kept this Rover about 4 years and drove it over 120,000 miles. It proved pretty reliable except for the transmission that burned up when the cooler lines rusted out and all the fluid sprayed on the ground. Luckily, the service manager at the local dealer got it covered by goodwill for me.
I changed the suspension and added a brush bar and lights, but otherwise this Rover stayed pretty stock.
I gave this Rover to ex-wife #1 who mangled its left side on a telephone pole and ran over her dad's mailbox one afternoon when the roads were icy. However, it soldiered on in its inimitable fashion until being replaced by a Dodge minivan.
Rover #3: Grey 1993 County SWB
The buyer for our dealership bought this Rover along with three others at the auction in the summer of 1996 and it didn't sell. So I registered it. This was my most refined Rover to date with things like CD changer and traction control. It was also the newest, with only 25,000 miles on it.
I fitted quite a bit of stuff — an ARB bar, winch, Hella HID lights, skid plate, Bilsteins, and more. We began to attend Land Rover club outings and had a lot of fun with this truck. Armed with a winch we could really get stuck but we actually seldom did because we had limited enthusiasm for walking out.
We drove the 93 Rover to Land Rover school, where the rear axle failed. Once again, Land Rover fixed it in warranty. Sadly, this was about the end of Land Rover's goodwill program as BMW cracked down on warranty claims.
I had a strange problem with the left rear on this vehicle. It started when ex-wife #2 was supposed to watch what was behind us in a wooded turnaround and we were struck by a small tree. Despite her vigilance the tree got us anyway. So I took the truck in for warranty rust repair and the service manager had the rear gate changed in warranty because it was rusted also. But then I was struck in the same place only a few weeks later by a Boston telephone pole. Before I could fix it I was attacked by another pole in the very same spot. I left the damage so other poles would not be tempted and had no further trouble.
Rover #4: Black 1995 County Classic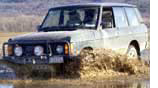 This Rover was traded to me in late in 2000 with under 75,000 miles and I grabbed it for myself. With its dual climate control, airbags, improved steering and TWR wheels this Rover was a big improvement over the Grey '93. I transferred most of the off-road stuff from the Grey truck to the Black truck.
I drove that Rover until January 2003 when I sold it to an enthusiast in the Midwest. It was an excellent truck for me.
Rover #5: Red 1996 Discovery
I received this truck in trade with a blown engine. It's a base model 1996 in red with beige leather and automatic transmission. It had just about 100,000 miles when it came into the shop for overhaul.
We overhauled the engine in our shop, and built a custom truck with this equipment list:
ARB bar with Warn 9000 winch
Plasma 12 synthetic cable on the winch
Wilderness full roof rack
Full rock sliders
Driving lights
Recovery gear on mounts overhead
ARB heavy springs with Bilstein gas shocks
Skid plates and diff guards
Upgraded headlamps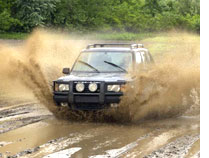 Rovers #6, 7, 8, and 9
Since 2003 I've driven a succession of 4.0SE and 4.6HSE Range Rovers. I've had both GEMS and Bosch trucks. I prefer the Bosch models. I've gotten a new (used) Rover annually, usually from one of our clients.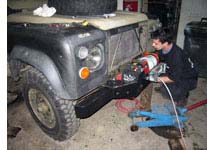 Rover #10
My next Land Rover acquisition was a military Defender 90 soft top with the 2.5 diesel engine. We did a lot of custom work to this truck, including Safarigard Stage II suspension, new Michelin XZL tires, Superwinch on a Rovers North bumper, skid plates, and other accessories. Look for us in this truck at events in New England.
Rover #11
Next, I got a white 2004 Discovery II, the last of this series. This is truly the best of the Discoveries, with the 4.6 engine, the 18 inch wheels, and the other amenities they've added. I still have this Rover.
Rover #12
My current Rover is a blue Range Rover Sport HSE. What a total departure from any previous Rover product! This is a totally different vehicle. It's on-road performance is far beyond anything Rover ever had before, yet the terrain response electronics allows it to retain the impressive off-road capability Rovers are known for.
Other Rovers in the family
There have been many other Rovers in my family. My father had a nice 1989 Rover the same color as mine until it was rear ended by a Suburban at 60mph on Route 91 near Greenfield. It tumbled 200 feet into the median ditch and bent into a gentle U curve. He broke his neck and my stepmother broke her collarbone.
That Rover was replaced by a similar colored 1995 4.0SE. It came with a 100,000 mile extended warranty, which as of today has paid for over $7,500 in repairs - an excellent value.
Other than having European cars that break a lot, my father was not associated with Robison Service. He spent 35 years at the University of Massachusetts, retiring in 2000 as head of Philosophy. My father passed away in March of 2005.
The Autologic tester
Most things on the New Range Rover, Discovery II, and Freelander are controlled by one of several computers. A special tool is required to connect to these computers. The standard OBD II scanner won't do the job. Land Rover dealers have systems called T4 and Testbook but even that tool has limitations. The most capable diagnostic tool on the market today is the Autologic.
We use the Autologic for all our Land Rover diagnostic work. At $12,000 it's not cheap but there is nothing else out there that matches its test capabilities on newer land Rover products. We also use Autologic test systems for BMW, Jaguar, and Merecedes.
This tool makes quick work of many tasks - airbag systems, antilock brakes, air suspension, and more.