J E Robison Service Co of Springfield, Massachusetts is America's best known and most experienced installer of Waxoyl rust protection products. Waxoyl is widely recognized as the best corrosion protectant for your collector automobile. It is the preferred method of protecting Jaguar, Land Rover and Rolls-Royce vehicles. It"s been used in all climates and under all conditions for 30 years.
Waxoyl is also widely praised for extending the life of commercial vehicles engaged in sanding, salting and snow plowing. It's used to preserve commercials trucks and vans that will work outdoors in New England under all weather conditions. The undersides of most commercials vehicles are mostly bare metal. Protect your truck investments with a coat of Waxoyl before the first snow/salt experience.
General manager John Robison has written several articles on the use of Waxoyl products. Read a reprint.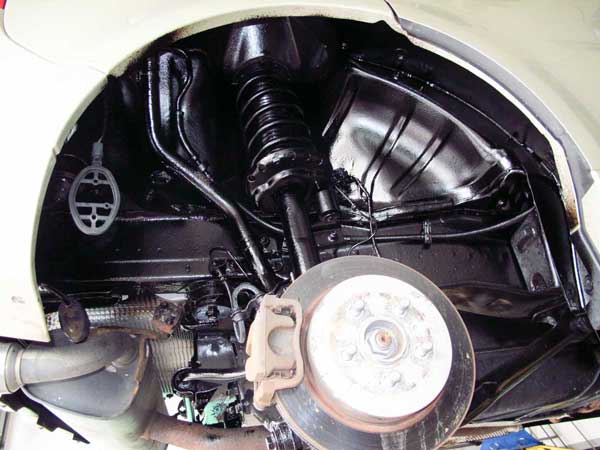 Waxoyl is especially effective for controlling rust and corrosion on older vehicles. The chemicals in Waxoyl soak into rust and stop it in its tracks better than any other compound we've seen. Unlike lesser "rustproofing" systems that only work on new cars, Waxoyl is effective on cars of all ages, and can substantially extend the life of older vehicles that have already started to rust. No car is too old to benefit from this process.
Your vehicle can be treated at JE Robison Service at any point during the year. Newer cars can sometimes be done in one day but we usually recommend a two-day drop off, and more time may be needed if your vehicle needs extensive prep work.
We begin by power washing the undercarriage and removing any original factory wax and any loose scale. If there is exposed flaking rust, that will need to be removed before Waxoyl is applied. In addition, old undercoats can interfere with the bonding of Waxoyl and those may need to be removed.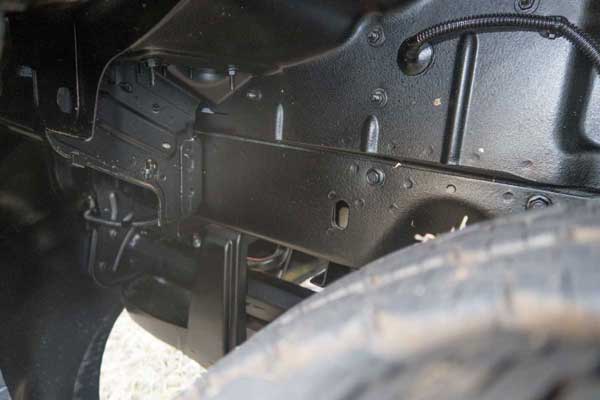 For optimum protection, areas of bare metal should be treated with a rust-eating primer like POR15 before Waxoyl is applied. Areas of perforation should be welded up prior to treatment too. Those services are available through us as well.
The actual Waxoyl treatment consistes of two steps – cavity protection and undercar hard wax. We apply Waxoyl with special high pressure wands to the insides of your doors, sills, inner frame panels, and all those other areas where rust sprouts.
Waxoyl is effective on all cars, but remember it is not a rust repair process. The best any treatment like this can do is to slow the progression of rusting. If your vehicle already has damage we suggest fixing that first.
Waxoyl provides effective protection for the insides of frame rails, with one exception. If you drive off-road and your frame rails fill with gravel, the abrasive action of the gravel can grind away any protective coating and leave the bare metal exposed and vulnerable. If you then drive on salted roads the salt may become trapped in the mud (in the frame rails) with very destructive results. Consequently, if you drive off road, we recommend regular flushing and inspection of the frame, and periodic reapplication of internal Waxoyl. Wash those frames!!
Pricing
Since we work mostly on collector and custom cars, every job we do is different. The basic Waxoyl job on a Land Rover or similar vehicle runs about $1,200. Additional prep work – if needed – is billed at $59 per hour. POR15 and other prep materials will be charged separately as well.
We also apply Waxoyl to pickup trucks that are used for plowing or run commercially in winter. As of 2017, the cost to prep and treat a new full size pickup is about $1,600. If the truck is near new but has surface rust and needs prep and POR15 the cost will typically rise to $2,000-2,500.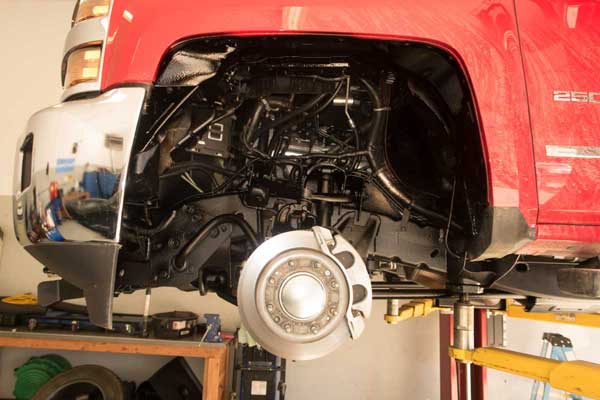 Full size Transit and Sprinter commercials vans cost about $1,600 to treat when new. Treatment when new will significantly extend service life of commercial vans. NOTE: Effective treatment of these vehicles is not possible if they are old enough to have started corroding on unibody seams.
Waxoyl on new Land Rovers, Mercedes, BMW, and Porsche SUV and similar size sport utilities and pickups will run about $1,400. Larger domestic SUVs like the Escalade will run closer to $2,000.
Waxoyl can be applied inside tube or box steel, such as the roll cages on NAS Defenders and off-road Jeeps. That work is done on a time and materials basis. We can also apply Waxoyl inside hollow outdoor furniture and utility trailers. Cost is time and materials based.
Once your vehicle is protected with Waxoyl we suggest annual inspections of the chassis. If you drive on dirt or sand the undercoat may wear off in spots but it can be reapplied easily. We sell spray cans for that purpose, or we can do the job in our shop.
Want to make an appointment for Waxoyl inspection and application? Call 413-785-1665.
Call our Parts Department at 413-785-5395 to order Waxoyl products.
Pricing - product for home application
| | |
| --- | --- |
| Spray cans, 16-ounce: cavity protection (clear) | $ 21.95 |
| Spray can, hard wax (black) | $ 23.95 |
| 5-litre can for bulk application: cavity protector | $306.00 |
| 5-litre can for bulk application: hard wax | $311.00 |
More about the products: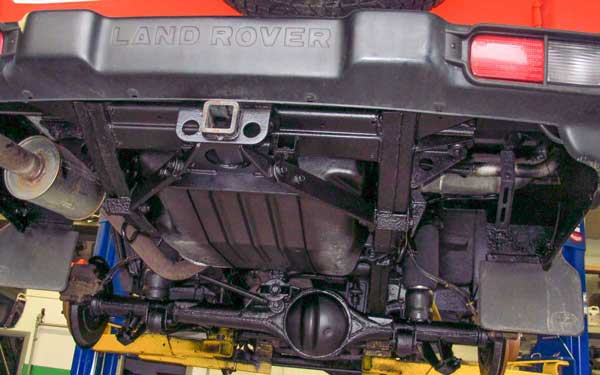 WAXOYL Professional 120-4 Cavity Protection – "Internal medicine" for cavities – prevents corrosion from flourishing in hiding. We use a special applicator gun with long flexible wands to "fog" the material into all the hard-to-reach areas of your vehicle. This is a critical step in the professional application of the Waxoyl system, and one that can"t be done well with home kits. Remember that rust often starts on the inside of doors, bulkheads, and frame rails. Our fogging process will help keep rust from starting on new cars and halt or slow it on older cars.
Protects cavities against corrosion from the inside out, thus preserving the inner values of a new car for life.
Waxoyl"s water-repellant additives and high performance inhibitors offer long-term protection against corrosion.
It is atomized as a fine mist through existing openings in the car body with the help of specially customized tools and using a professional spray manual.
Also gets to hard-to-reach spots without difficulty, thanks to its good penetration.
Reaches the smallest crevices, corners and cavities.
The wax-based product offers long-lasting adherence and forms a clear, water-resistant, highly flexible protective film.
Will not restrict or plug water drain holes.
Environmentally friendly, does not drip, does not impair any other materials on the vehicle.
Prolongs bodywork life, thus increasing the resale value.
Protects metal components in engine compartment and boot, on doors and door sills.
Also good for insulating electrical components against damp.
We also apply Waxoyl Hardwax Underbody Protection—
This is a heavier black product. It provides underbody protection against road salt, grit, dirt and other harmful substances and long-lasting protection against corrosion.
Hardwax is the part of a Waxoyl application you can see.
Supports a long life even for modern, unibody frame constructions thanks to the special composition of its wax-based protective film.
Particularly resistant to abrasion. Hard wax resists gravel spray in areas like wheel wells, and it is easily touched up if needed.
Always remains smooth and resilient, thanks to special additives.
Excellent adhesive properties.
Will not drip at high temperatures or become brittle in sub-zero weather.