At JE Robison Service our technicians are trained and equipped to perform any service or repair on your German car. We specialize in Audi, BMW, Mercedes, and Porsche vehicles. Our shop has all the latest tools and service manuals for your car — even if it's only a few months old.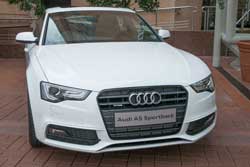 If you're thinking about buying a car don't forget our pre-purchase inspections.You might also want to read about our own unique car buying program.
We can perform all scheduled service work on newer, in-warranty vehicles. Whether you own or lease your car we're ready to provide the best service.
In addition to performing all regular maintenance on older cars we are also expert at major repairs. We're skilled at electrical troubleshooting, air conditioning work, and major drivetrain repairs.
J E Robison Service Co Inc of Springfield, Massachusetts, is an independent business that specializes in the sale and service of used Audi automobiles. We are not an authorized Audi dealership, we do not sell brand new Audi automobiles and we are not otherwise affiliated with, originating from, sponsored by, or approved by Audi of America in any way.