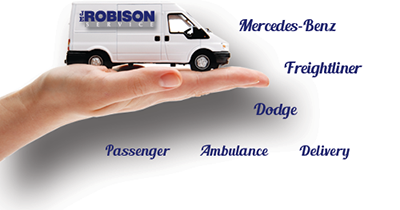 At J E Robison Service our ASE and Bosch-certified technicians are ready to perform any service or repair on your Sprinter. It does not matter if it's branded Dodge, Mercedes-Benz, or Freightliner — we fix them all. We've been Mercedes-Benz diesel specialists for over 20 years, serving Western Massachusetts, New England, and beyond.
We know you rely on your Sprinter for work. We're experts in fast turnaround with consistent high quality.
Did you know that most of the key systems in Mercedes trucks were designed or developed in conjunction with the Robert Bosch Company of Germany? Bosch is the world's largest supplier of automotive systems, and we are proud to be Bosch Authorized Car Service for Western Massachusetts, so we have direct factory support for all the vital systems in your Mercedes-Benz.
We are fully trained and equipped to service all the systems on your Sprinter. We are experts on today's sophisticated electronic diesels.
In addition, we perform any and all chassis service. Look to us for routine maintenance, and repair.

We can troubleshoot CAN bus problems and any other wiring issues. We can code new keys, program alarms, configure instrument clusters, and program and code the various engine and chassis computer systems. Our capabilities in this regard are unique in the New England area.
Our parts department has an extensive stock of Bosch, Mercedes, and quality aftermarket replacement parts for your Sprinter.
We can perform all scheduled service work on newer, in-warranty vehicles. We also provide warranty service on any Bosch system on your Mercedes automobile. Whether you own or lease your car we're ready to provide the best service anywhere.
Remember, JE Robison Service Company is part of the Springfield Automotive Complex, just off Exit 4 of I-291 in Springfield, Massachusetts. Our complex also includes Mr. Detail, the Auto Appearance Artists, Tech Auto — general domestic and foreign car service, and Tebaldi's Line-Rite, undercar and alignment work.
Do you have a technical question about your Mercedes? Look for us on the Mercedes-Benz Club's technical forum. If you're not yet a member, you'll need to join the Mercedes-Benz Club of America to participate in the forums.